Community Service
Austin Association of Insurance Professionals
2021 Wooten Elementary School Supply Drive
The Austin Association of Insurance Professionals (AAIP) collected monetary donations and purchased gift cards for Wooten Elementary. In addition, a small amount of school supplies was also donated, separately, by an AAIP member and her son.
The delivery of gift cards was handled by AAIP 2021 Wooten Project Lead Jean Patterson on Monday, September 13th. A total of $1000 in gift cards were donated to Wooten Elementary. Parent Support Specialist, Bernardo Martinez, accepted the gift cards on behalf of Wooten.
Mr. Martinez expressed his continued gratitude for the donation of Office Depot gift cards. Many students still need assistance with school supplies, as well as teachers. AAIP has been supporting Wooten Elementary for over 19 years.
FOR MORE INFORMATION contact Jean Patterson, (512) 343-9058, jptsla@tsla.org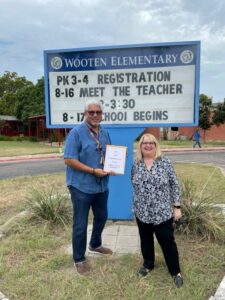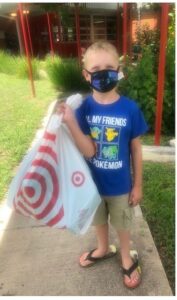 AAIP is proud to give back to our local community. We want to thank all of the AAIP members for their donation of money for the gift cards for Wooten this year!
AAIP has been able to support the following local charities through our various fundraising events throughout the years:
Central Texas Table of Grace
Sammy's House
Austin Pets Alive
Dress for Success
Austin Fire Department
Wooten Elementary
A BIG thank you to all those who have, and continue, to support AAIP!!!