Community Service
Kendra Gives Back event benefitting Central Texas Table of Grace
The team at the Kendra Scott North Lamar location hosted the Austin Association of Insurance Professionals (AAIP)  in November of 2022.  They allowed in-person purchases as well as online purchases to donate 20% of each purchase to Central Texas Table of Grace (CTTG).  There was a big crowd in-store on the day of – people milled around,  chose jewelry, enjoyed sips and sweets, and looked forward to the holiday together.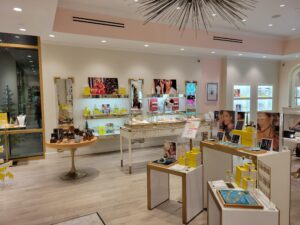 Once the event was done, Kendra's team let us know that we were able to raise $516.47 for Central Texas Table of Grace.  That along with the funds raised at the 2022 Top Golf event brought our combined donation to $1,516.47.
Pictured below at the check presentation are Jessica Hahn, Stacy Johnson (CTTG), Marjolyn Varano, and Danny Journeay.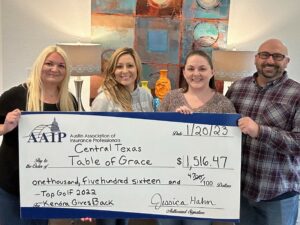 AAIP is proud to give back to our local community. We want to thank all of the AAIP members for spreading the word, making purchases, and keeping our charities in mind.
Through our various fundraising events spanning our years in operation, AAIP has been able to support the following local charities:
Central Texas Table of Grace
Sammy's House
Austin Bat Refuge
Austin Pets Alive
Dress for Success
Austin Fire Department
Wooten Elementary School
and more
A BIG thank you to all those who have, and continue, to support AAIP!